Schneider Electric, AZ5CE Insulated Crimp Bootlace Ferrule, 8.2mm Pin Length, 2.1mm Pin Diameter, 1.5mm² Wire Size,
N° de stock RS:

254-6520

Référence fabricant:

AZ5CE015

Fabricant:

Voir la catégorie
---
22 En stock, livraison sous 1
jour(s)
(stock
Europe)
123 En stock, livraison sous 3 à 5 jours
(stock
Europe)
Boîte(s)
la boite
Prix par unité*
1 - 2
10,41 €
0,052 €
3 - 5
8,85 €
0,044 €
6 - 9
7,80 €
0,039 €
10 - 19
6,76 €
0,034 €
20 +
5,72 €
0,029 €
*prix conseillé
N° de stock RS:

254-6520

Référence fabricant:

AZ5CE015

Fabricant:
Législations et de normes
---
Détails du produit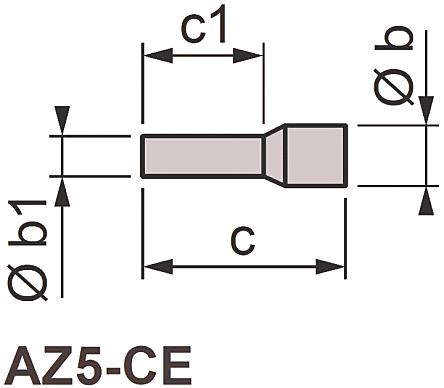 Schneider Electric Crimp Bootlace Ferrule, Copper Construction, Halogen-Free Construction - AZ5CE Series - AZ5CE015
When you're connecting conductors to screw or spring clamps, you need a termination method you can count on. That's where this crimp bootlace ferrule from Schneider Electric comes in. You simply slip it over the end of a stranded wire and crimp it in place to achieve a robust termination. This also offers the contact reliability you need for repeat connections or demanding applications. The ferrule's design includes an isolating collar to minimise the risk of shocks from the live wires safely contained inside. This unit is black, which can help you colour-coordinate your wiring for quick and easy identification as you work.
Features & Benefits
• Conductive copper tube for electrical conductivity
• Ambient temperature range between -20°C and +105°C for compatibility with harsh environments
• Handy dispenser pack of 200 units, so you'll have plenty for numerous jobs
• Halogen-free plastic insulation means no toxic smoke is emitted in a fire
Applications
• Poke-in clamp terminals
• Row clamp connectors
• Switching cabinets
What conductor sizes can I use with this product?
This ferrule accepts wires with a cross-section up to 1.5mm², making it a piece of cake to pair with wires up to 16AWG.
---
Spécifications
| | |
| --- | --- |
| Attribut | Valeur |
| Maximum Wire Size mm² | 1.5mm² |
| Pin Diameter | 2.1mm |
| Insulation Material | Plastic |
| Number of Entries | 1 |
| Colour | Black |
| Pin Length | 8.2mm |
| Insulation | Insulated |
| Maximum Wire Size AWG | 16AWG |
| Overall Length | 13.5mm |
| Series | AZ5CE |
| Better World Product | Yes |
| Better World Verification | Green Premium |
22 En stock, livraison sous 1
jour(s)
(stock
Europe)
123 En stock, livraison sous 3 à 5 jours
(stock
Europe)
Boîte(s)
la boite
Prix par unité*
1 - 2
10,41 €
0,052 €
3 - 5
8,85 €
0,044 €
6 - 9
7,80 €
0,039 €
10 - 19
6,76 €
0,034 €
20 +
5,72 €
0,029 €
*prix conseillé